Kawai CA97 – First Impressions
Introduction
This article will cover my first impressions of the Kawai CA97. Bear in mind that I've only had the piano for a very short time, so it will be just that – impressions – and not a full review in any way.
I've been breaking it down to mostly feature by feature, and major headlines first contain an explanation of my reasoning before I bought it, followed by my impressions so far and reflection upon that reasoning. Some of the aspects are already described in my guide "My Experiences with Top Model Digital Pianos", but this will cover my reasoning more subjectively.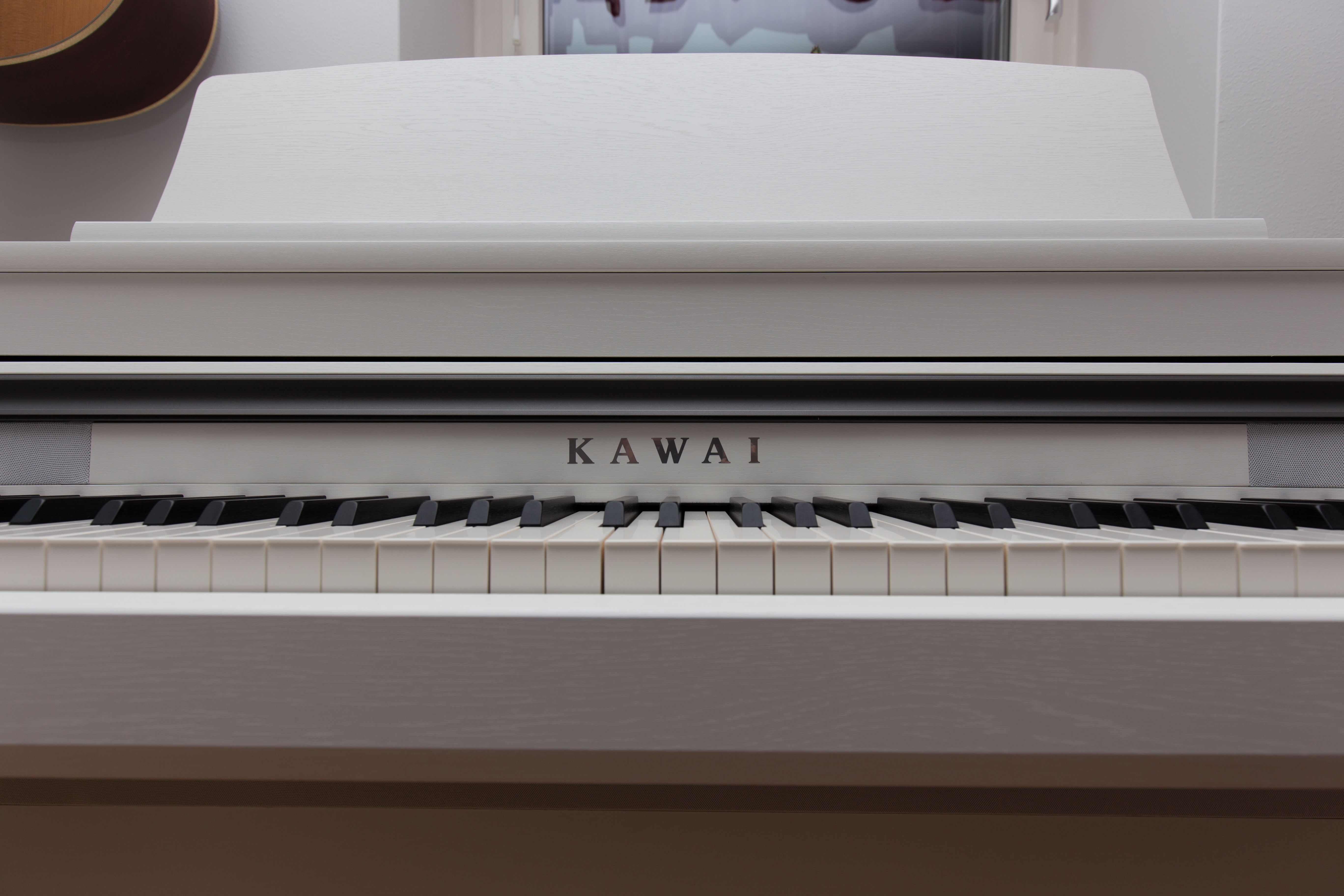 Kawai CA67 vs Kawai CA97
Before
The choice between Kawai CA67 and Kawai CA97 is a though one, I must say. The latter has Kawai's amazing soundboard which causes the instrument to resonate when playing through speakers, improving both sound and acoustic vibrations that you can feel. That, and additional 20 instrument voices, is the only thing that differentiate it from its little brother, CA67.
The reason why this decision is harder than it should be is the significant cost increase that Kawai CA97 comes with. In Sweden, the price for CA97 is about 45% higher than CA67, making the former far less priceworthy than CA67, which I consider to be extraordinary in that regard for this price segment.
If you intend to play with the speakers for a majority of the time and have no one that might be disturbed by it, then, by all means, pick the CA97 if you can afford it. I don't think you will regret it one bit.
I, however, play almost always with headphones, which made it a tougher decision to make. It's really hard to motivate the improved soundboard with the hefty cost increase that comes with it, but in the end I picked it anyway. There were two reasons for that:
First of all, I really loved the acoustic vibrations I got from the resonance of the soundboard. It's really something special, and a feature that makes it feel more like playing an acoustic piano. Because of that, my plan is to play more without headphones and through speakers instead.
Second of all, I thought I might regret it if I purchased the cheaper one. It is a bit more limiting in its sound, distorting some frequencies at higher volumes, and that's of course not something you want when trying to express yourself with beautiful music. It's not a huge problem, but it is noticeable, especially at high volumes, and when you have played the better CA97 side-by-side. I just think I would be reminded of my choice every time I encountered it, and if this instrument will be stuck with me for the next 5 – 10 years, then I rather avoid this regret.
After
I was very happy with my choice in the end. Until I sat down at the piano for the first time and realized how extremely loud this piano is. It took me about 2 seconds to regret my decision, because I realized I wouldn't be comfortable playing very loudly with the speakers in respect to my neighbors. They have never ever complained, and my neighbor below had never ever heard my play neither guitar nor piano, and at times I have been fairly loud. She also knows that she can talk to me about any disturbances, so maybe I should just stop worrying so much and try play at reasonable volumes without trouble.
Anyways, I'm glad I wrote this article, because the previous section reminded me about why I made the choice, and I'm sure I will be satisfied with my decision later on, but right now I'm wondering if I might have been wasting my money.
Loud. This piano is very loud. I now understand people who says that the volume slider at 50% is about the amount of volume you would get from an acoustic piano. Even with the setting for lower speakers enabled, it's still so loud I would never go pass 50%. I guess that's not a bad thing at all, because it's always possible to lower the volume, but maybe the setting for lower speakers could have decreased the volume even further. The difference between "normal" and "low" is not very big.
Headphones
The volume is also loud in headphones, which is a good thing. Here, I can push the slider a bit higher, but max out the volume would be way too high, even with my high impedance headphones (Sennheiser HD 650). It has a high impedance mode, but since the volume is already more than enough, I don't really see a need for it, but it's nice that the setting exists.
Speaking of headphones, the SHS (Spatial Headphone Sound – Kawai's variant of the improved headphone mode that seems baseline along all manufacturers in this price tier), works wonderful. In the beginning, I had to check to make sure the sound was actually coming from the headphones and not the speakers, and I've never had that confusion before. This was one of the features I was most excited about, compared to my old Yamaha DGX-650, since I play a lot with headphones. So far, I'm not disappointed.
Key Action
Okay, let's move on the one of the "big ones" – the key action. This might be the most important feature of a digital piano. Sure, the sound and speakers are important, but you can always connect the keyboard to a computer and get high quality piano sounds to your likings, and play through headphones. Key action is something you're always stuck with, and it needs to feel right.
Before
I think it was a fairly tough choice between Kawai vs Yamaha in regards of key action. I think they were both at top level for this segment, though I liked Kawai slightly more. Good or bad, Kawai's key action is slightly heavier than Yamaha, but to me, this is a good thing. It gives me more of an acoustic feel to it and a better opportunity to build finger strength.
That, along with better looking black keys and longer pivot point, was the deciding factor that made Kawai's Grand Feel II come out on top. I simply thought it was the best key action to prepare me for playing on an acoustic piano whenever that opportunity may arise.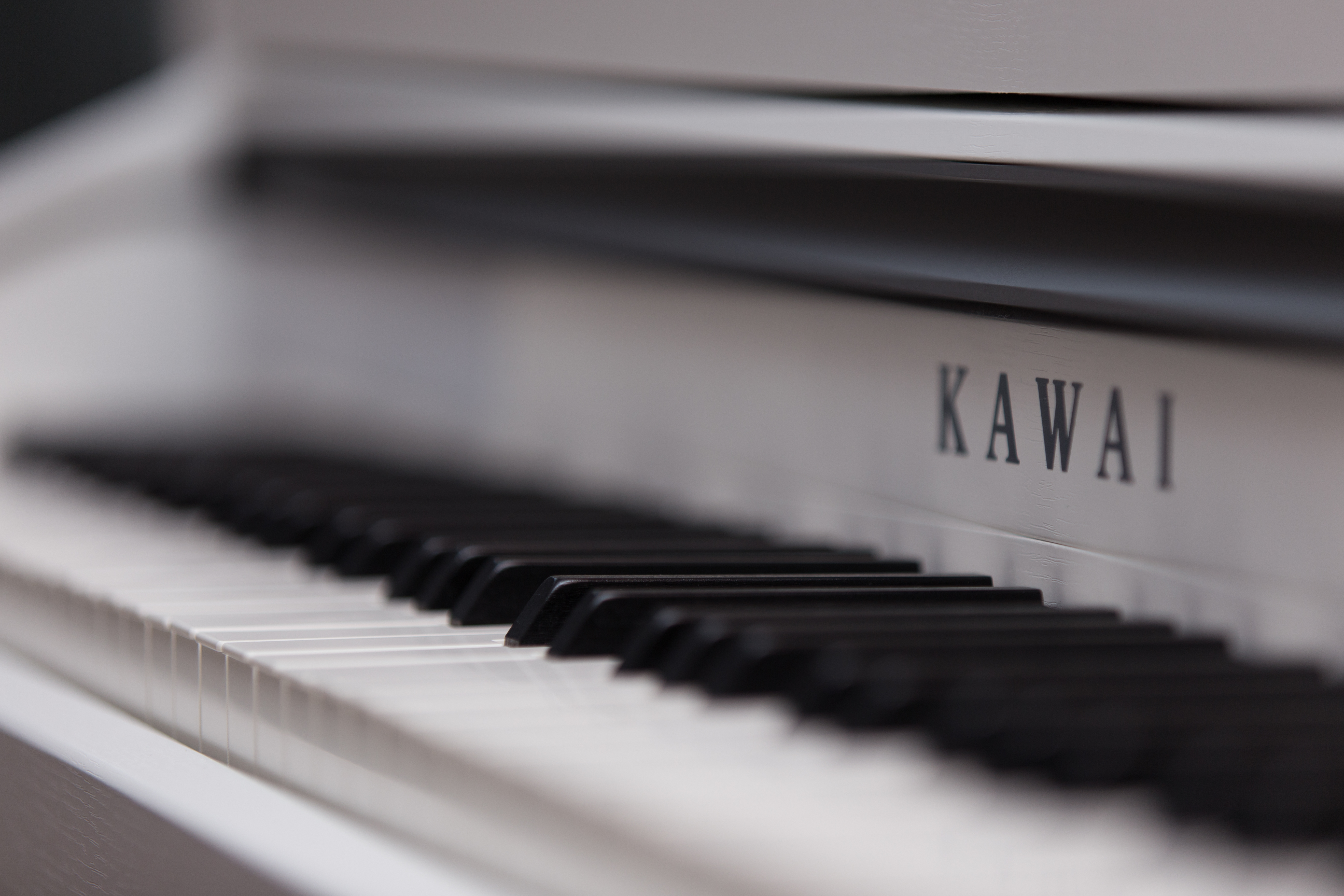 After
Initially, the heavy key action was very noticeable, especially compared to my previous Yamaha DGX-650. I wasn't worried though, since I imagined I would get used to it fairly quickly, and a couple of days later, I would say that is already the case to some extent. With time, it will get even better, but now in the beginning, it's still noticeable when playing. This is all good, and in line with my expectations.
The feel of the keys, however, is far better than I hoped for. It's hard to describe, but it just feels very good to play. Whether it's the weight of the keys, or the smooth surface on the white keys, or the feedback from escapement mechanism, I don't know, but it just feels way better than my old piano, and it makes it harder to stop playing, because it's such a joy. Although I disliked Roland's light-weight key action, I still thought it was a nice keyboard that felt good to play on. I'm happily surprised that this feels even better to play on. Maybe it's because I'm getting used to the heavier key action, I just don't know, but I like it very much.
The longer pivot point makes an even bigger difference than I thought. It makes it noticeably easier to play the white keys at a higher point and I was really surprised how huge difference I could feel. It's not just an advertising gimmick in my opinion, it actually works!
The black keys really look a lot better on the pictures and videos I've seen. They don't look bad, and they still look far better than the competitors, at least to me, but they're still not as beautiful as I've seen on some truly amazing acoustic pianos. The surface of the black keys is made to look like ebony wood, and while they are made out of wood, they are not the real ebony thing. I wrote earlier that this texture makes it feel a bit rough, especially compared to the plastic keys of the competitors', and while that is true, I would say that applies more to the side of the black keys than the top. The top can actually feel a bit slippery at times, and I don't really like that. That's my first impression, though, and I might change opinion about this later on, but for now, some very slight slippery warning on them.
Kawai is claiming they've made the black keys slightly wider on purpose, but to me they just feel slightly more narrow than I'm used to. That might be the Yamaha keyboard that had even wider black keys, or just a result of the texture. I'm not really sure. I can at least say that they're not too wide.
When I tested the key noise in the store I came to the conclusion that it was in level with Yamaha's CLP-575, which in turn was lower than my previous Yamaha DGX-650. However, now when I'm playing on it, I'm not so sure that it's significantly lower than the DGX-650. It's lower, for sure, but not by a large margin. I might just have gotten the wrong impression when I tried them in the store, along with the background noise.
Sensor Problems
One problem I have encountered is that the G4 key is way "higher" in volume than the rest of the key. After further investigation, it seems that it produces higher MIDI velocity than the other keys, so it's a real thing and not just something I imagined (which I was pretty sure of, because it really is much higher).
At first, I was very worried that it might be a software issue and just explained as part of the character of the piano sound. I just found it completely unacceptable as it was hard to play Bach's Prelude in C Major with nuances when the G4 key was significantly higher than the rest. But after the measuring of MIDI data, it most likely seems to be a sensor issue, or some other hardware related issue.
I have full confidence that it will be fixed by Kawai, and meanwhile I wait for a solution I can lower the volume of that specific key in the Virtual Technician app. It's not an ideal solution, and especially not for extended periods of time, but it will work for now.
As I'm sure I don't have to mention, the problem is of course completely unacceptable in the long run, and even with the temporary fix, it's a setting to that specific instrument that would have to be changed for each instrument voice, along with the fact that it would be on its lowest possible value. The volume change also changes the dynamic since it plays a "harder" sound (with higher velocity) that is then lowered in volume. It also makes it unusable when playing over MIDI since it would produce the incorrect data.
Sound
Before
I was really impressed by Kawai's lineup of three full-sampled world-class instruments in Shigeru Kawai SK EX Concert, Kawai EX Concert, and the smaller-sized SK-5 Studio grand piano. I didn't try out the latter too much, since I mainly played on the full concert grand pianos, but I found them very enjoyable and different in sound. They are both very high quality piano samples, and in line with Yamaha's CFX ditto. I did, however, give the edge to Yamaha's CFX as the better "all round" piano sound, even if both of the Kawai pianos were close.
After
My impressions after playing for some days are basically the same as before. The two grand concert sounds are really good and very different from each other, but I would probably still prefer Yamaha's CFX as a better "all round" piano sound. You can, however, change the character of the sound even more with the Virtual Technician app (more on this later), but since it's the same samples in the end (I guess?), the character tones from that very piano is still there, for good and bad.
The rest of the instrument voices are not as impressive though. The SK-5 Studio grand is an okay sound that I might play around with from time to time, but the rest of the grand pianos doesn't really sound that great to me. Of course, it's hard to compare them to the flagship pianos that represents the very best piano sounds from Kawai, but they sound a bit dull in my opinion. If I ever used them, it would be for a very specific situation. I think I'm very unlikely to just use them to practice or play in general. The Upright Piano, which I think is from Kawai's K-60, is something of a favorite among some users, but once again, I don't find it very impressive. It's different for sure, but coming from the concert grands, it sounds like an old, cheap piano.
Speaker System
Before
I've already mentioned my reasoning regarding the soundboard and choice between CA67 and CA97. Comparing the speaker system to Yamaha's CLP-575 was much harder though. They are very different in sound, and add to that the fact that the piano samples are completely different, and it makes it very tough to compare, even side-by-side. In terms of pure sound, I gave the edge to Yamaha's CLP-575 (while the more expensive CLP-585 blows everything out of the water that I've tried). However, add to that the resonance experience you get from the soundboard with CA97, and I thought it came on top by a very slight margin.
After
Honestly, I think this is the biggest disappointment of all things with my new piano. Even when you play extensively in the store, it's hard to know how it will sound in your home, and how that sound will feel in the long run. I've only had my piano for a couple of days, but I can tell you right away that I've started to notice that the speaker sound is not nearly as good as the sound produced when using headphones.
I want to point out that it's not a bad speaker system at all. Overall, it sounds amazing, and the soundboard is still a nice sensation in addition to that.
But when I hear how the sound is supposed to sound (in my headphones), I clearly notice that the treble tones are a bit muffled in comparison. I'm not entirely sure how the soundboard works, but from my understanding the soundboard is more responsible to reproduce the bass and middle tones, while the speakers are more responsible to reproduce the treble tones. This would make a lot of sense, and would explain my experience.
At first, I thought that some of the speakers might not be working at all, because the sound from the bass are really truly amazing. It's just so damn good! But the higher tones sound like they come from a speaker in a closet with a closed door. It's like something is standing in the way for you to hear the full clarity of the tones, and that is a bit annoying, especially compared to when you with headphones. I did actually check all the speakers, and they seem to work, but my guess is that they are not as good as the soundboard system, and therefore lacks behind in comparison. It's a shame really that the quality of the tones is not even along the keyboard.
This is just my first impressions, and we'll see over time. And though it's very hard to compare to Yamaha's CLP-575 in hindsight, my guess is that it would have the edge in speaker system, with a more even tone across the range. Yamaha's strong point in sound is really the clarity in its sound and has a lighter character to it. With that said, I also remember that the higher tones on CLP-575 did distort a bit on higher volumes and sounded way too sharp at times. That problem never occurred on the Kawai pianos.
I would really like to go back and try out the CLP-575 again and see how it is in comparison. And in my mind, there's no question that CLP-585 would destroy the other pianos in terms of speaker system. Although I would have like to do some more extensive testing now that I have specific things in my mind.
Missing Feature: Turn On/Off Speakers
I miss this feature more than I thought. On my Yamaha DGX-650, I could just pull the headphone plug and leave it inside while playing through speakers. On Kawai CA97, the front panel is angled down towards the floor which makes it feel like it can drop down any second. I switch between speakers/headphones a lot, several times each day, and this makes it annoying to pull to plug and try to hang it with the headphones every time.
This wouldn't have been a problem if they had the same feature that Yamaha Clavinova pianos have: the setting to turn on/off speakers, regardless of headphones or not. Being able to switch to speakers (while headphones is still plugged in) would have made my life so much easier. I just don't understand why no manufacturer besides Yamaha thought of this idea. It's annoying as hell.
Menu System
Before
If you've followed my posts on PianoWorld.com, you might have encountered my rant on the menu system. Kawai James, a representative from Kawai on the same forum, thought I would get used to it and change my opinion, but I must say I was very skeptical. Sure, I would learn the menu system fairly quick, but is a menu system really something that should be "learnt"? To me, that's the opposite of intuitive, and there was just many small details that makes it feel very unintuitive to me.
Like navigating with up/down buttons but not be able to enter a submenu with the right key. Instead you have to press "2" above the arrows. Going back from a submenu requires you to press "3" instead of pressing the left button. To make it even worse, the "3" button is placed the right, which makes little sense since you're basically going back to a higher menu. Not sure I follow. It's not as great as Yamaha's menu system, but it's certainly far better than Roland's ridiculous ditto.
After
No, it's still a mess. A huge mess. Even settings I have adjusted 20 times before feels completely unintuitive, and there's no way around it. I actually have to stop and think for a second, even for changes I know how to do. It's because of the buttons and that you sometimes can navigate with the arrows, and sometimes you have to navigate with the numbers, and then you have to switch back to change things with the arrows again. This is not intuitive, it's the opposite.
Look, it's not a deal breaker, and it's highly unlikely that someone would pick a piano because of its menu system. But in this case, it's like Kawai knows that's the case and said "oh, fuck it, they don't care so let's just do our worst, it doesn't matter".
Along with the unintuitive navigation system, some things are a bit confusing, and requires you to read the manual to understand. Like, what the registration contains, what the startup settings register, what settings are saved and which one are just gone when you turn off the piano.
In addition to that, small annoyances occur from time to time. An example is if I want to record something to a USB stick. I pick that option, and the display tells me I'm in USB mode, and after playing it asks me if I want to save this. Fair enough, I say yes, and then I'm asked to enter a file name (by the way, this is terrible, who renames their files in a digital piano instead of hook it up to a computer and rename it correctly where you can also sort everything by date if you're confused), and after that I'm asked if I'm sure. Why is this a four-step process? I have already said I want to record to USB, and that I want to save it, and confirmed a file name. Who backs out at this point and goes "you know what, I know I said I wanted to record to USB, and I wanted to save it, and even renamed it to the title, but now I'm having second thoughts". No one. No one does that, and even if that was the case, it's a tiny song that causes absolutely no harm, and can be deleted at any point. Just stop asking me over and over again for no reason.
I've also managed to brick two USB sticks for some reason. Formatting it in the piano seem to make it unrecognizable anymore by Windows 10, and I can't even reformat it in my computer. That is very weird, so just a heads-up here. It works fine just saving it to an already formatted USB (which is 99,9999999999% of the USB sticks in the world).
Oh, and one more thing, the viewing angle of the display isn't really impressive. It's as bad as a TN panel, and since you're often looking at it while sitting in front of C4, it's very noticeable.
Music Notation Rest
I love it! It's wide enough to fit four pages without any problem, and the felt on the angled bar in front of it makes it easy to place papers there without them falling. There's also a small gap behind the bar where you can place single papers and make them even more sturdy. While the felt is very good, I still wished it had Yamaha CLP-575's clampers that can hold a book from folding itself when placed on the music rest.
Virtual Technician App
Let's talk some about the Virtual Technician app that is available for iPad. Although I have some complaints, it's overall a great experience and overall an intuitive app. It contains beautiful pictures with clear descriptions and a sample button that plays a tune to demonstrate the effect of different values. It's really a joy to scroll through the different settings and try to adjust them slightly to get exactly the kind of sound you are comfortable with. Kudos to Kawai for this!
Unfortunately, there are some annoyances that disturbs the otherwise great experience. First of all, I should mention that it's a shame that the app only exists for iPad. It's not even possible to use with your iPhone. The same thing goes if you have an Android tablet/phone or a Windows tablet/computer. I get it, iPads are popular, but brand exclusivity from a digital piano manufacturer is not impressive one bit. Android tablets may not be as popular, but add mobile phones to the pool, and their market share is well enough to deserve its own app. And then we haven't even mentioned the biggest beast of them all; Windows. Not only is Surface a big deal with increasing popularity, but add to that the number of users that have a computer connected (or possibility to connect) and it should blow iPads out of the water. Add to that the fact that you can connect to Android and Windows units with a single USB cable to get the MIDI interface, while iPad requires a special overpriced adapter to be able to receive MIDI data over cable. Come on, Kawai, don't settle down with iPad exclusivity,it's not good enough 2017, and it's a safe bet to assume you have more upcoming products that will make good use of the Virtual Technician.
Okay, so back to the actual app that exists. When starting the app, you will get a notification that you have to turn on Bluetooth, even though you are connected with a cable. Annoying as hell, and every single time. Next annoyance is that it's easy to play around with different values, but no way to reset it back to its default values. Usually when you are playing around with an interface that lets you adjust several parameters, there is usually a way to cancel or reset it. Unfortunately, that's not the case here. Even a simple text would do the job. "Default parameter: 5". Simple as that!
The profiles come in handy, but they handle like shit. I have never ever been able to scroll through all the profiles without getting glitches along the way. First of all, you'll have to be careful when scrolling through them. If you do it too fast, it will delay and flip out for a moment. But even if you do it slowly, and letting every profile apply its settings (which I assume is causing the lag), it sometimes goes to the next profile and flickers back to the previous one. Press again and the same thing happens. Repeat a couple of more times, and eventually you will get to the next profile. Really annoying when you want to try them out, especially since it's more or less instant when you do it from the control panel.
In addition to that, the profiles themselves seems they cannot be changed. You can apply a preset that you've saved, but if you want to save it again, you have to create a new one and rename it again. And sometimes, if you have changed different key values, it won't apply all the settings when you take apply. Usually it works, but sometimes it decides not to work and you have to re-apply it in order to take effect.
The biggest problem, however, is the total confusion between profiles and instruments. I'm not really sure how they should work, but they seem totally inconsistent. If you change an instrument, the profile settings you had in the app will still be selected and look like they are applied, when in fact, they are not. I'm not sure if they are intended to change to the profile they actually have (seems reasonable), or if the new instrument should be applied with those profile settings you have visible in front of you. It should, however, be one of those two alternative. The third option, which is the case, is showing one thing and do another thing, which I can't imagine is supposed to happen.
Let's just take an example so you understand what I mean. You have the EX Kawai as instrument, and you have applied Mellow 2 as Voicing setting. Everything is great, but now you switch to SK-5 and the app still shows it as Mellow 2, but it plays like Normal. If you change the setting to Normal, it will still sound the same, but switch back to Mellow 2 (that it just had), then it will apply Mellow 2, and you will hear its effect. As I said, it should either reset the profile sound to the correct one (in this case: Normal), or apply the setting that the app shows (in this case: Mellow 2). Now it shows Mellow 2 and plays like Normal. That is just incorrect.
Okay, some complaints, but even with that said, it's still a great app. Despite all those annoyances, I still love it. That should say something how high I rank the app.
---
Summary of First Impressions
I absolutely love my new digital piano! I know this article contains a lot of complaints, but I also want to point out that I had really high expectations, and most of those expectations are met and already described. It really is a great piano in almost every way.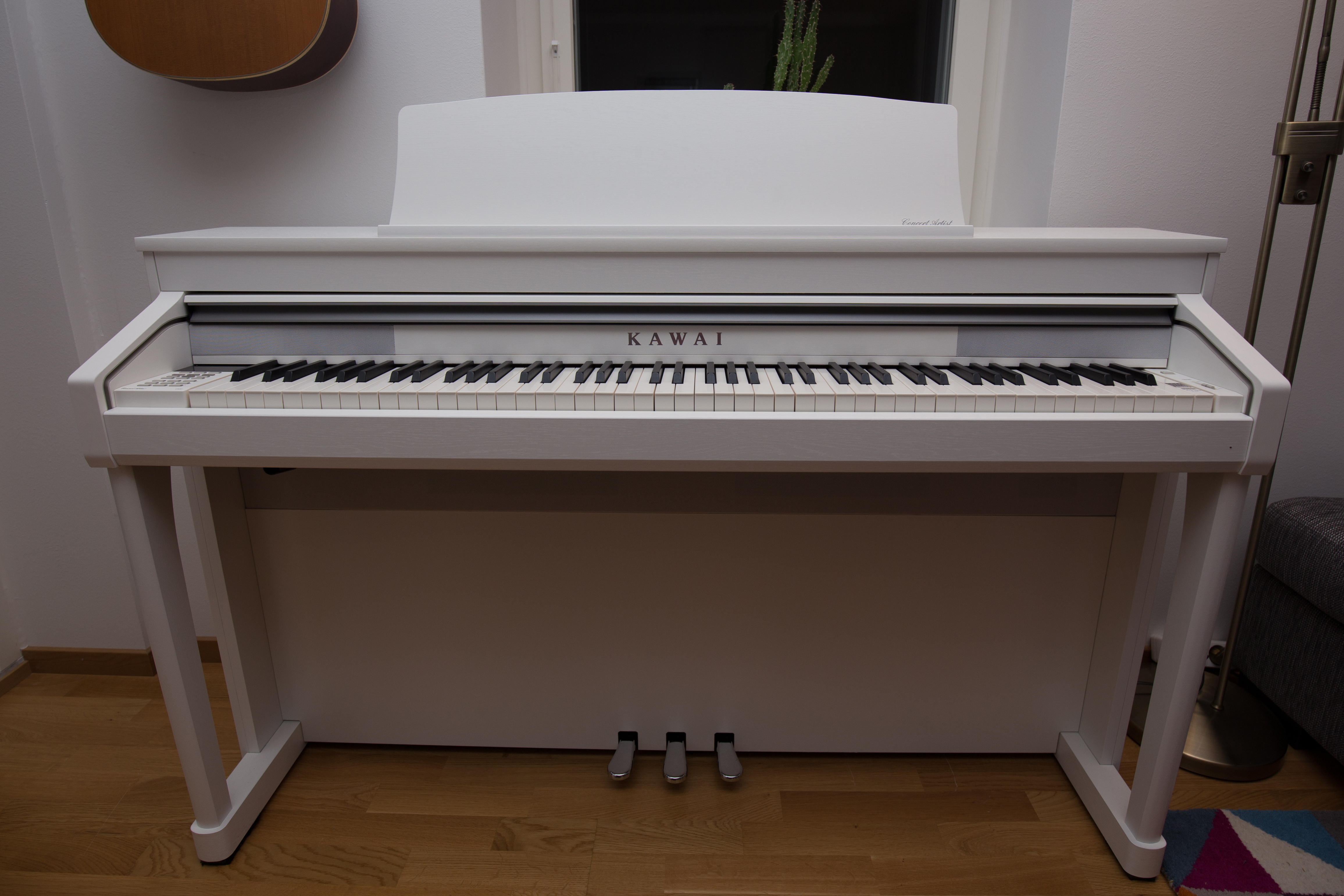 Sure, the menu system is a piece of unintuitive crap, and the speaker system is not cutting edge, but it's still good, and the soundboard is an amazing feature. The biggest doubt I have is whether it was the correct decision to pay so much more for only the soundboard, but if I had to make the choice all over, I would pick it again. In the long run, I think I will be very happy with that decision.
I'm still waiting for an answer to the G4 key which is the only real flaw I can think of now. But other than that, it's an absolute joy to play on, and I'm so impressed by the key action, and it really is the most important feature by far.
https://rickardnilsson.se/wp-content/uploads/logo.png
0
0
RickardNi
https://rickardnilsson.se/wp-content/uploads/logo.png
RickardNi
2017-01-21 12:34:41
2017-01-21 12:39:05
Kawai CA97 – First Impressions